Glass Dome for Profoto B1 & B1x Flash Heads
Frosted glass dome that lets your flat glass B1 and B1x heads give out the same beautiful light quality of a domed Pro Head.
These domes are not compatible with D1 heads.
This product is not manufactured by Profoto. Profoto is a registered trademark of Profoto AB.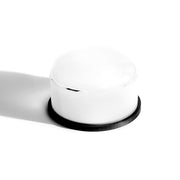 Glass Dome for Profoto B1 & B1x Flash Heads